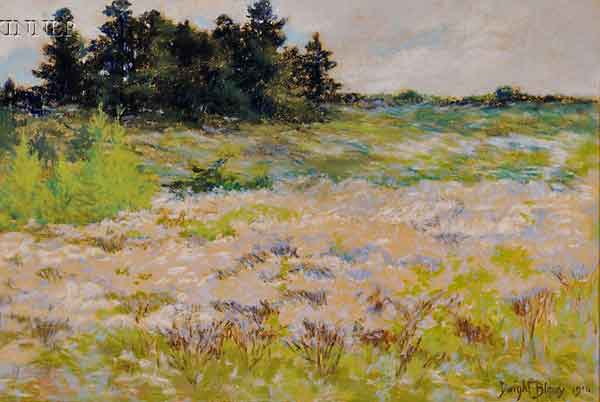 Dwight Blaney 1865-1944
Spring Landscape
Signed and dated "Dwight Blaney 1916" l.r.
Pastel on paper, 12 1/2 x 19 1/4 in.
Gold frame
$2400

Dwight Blaney was born in Brookline, MA in 1865. He was originally trained as an architect. Encouraged by his friend, John Singer Sargent he traveled to Europe to paint where he was influenced by Monet and the Impressionists. He painted at Fenway Studios in Boston from 1906-43 and would visit Bermuda often. He also spent summers painting the Maine landscape near his home on Ironbound Island, just offshore from Bar Harbor.
John Singer Sargent visited Dwight Blaney several times on Ironbound Island, and made at least 7 paintings there. 'The artist sketching' (Below portraying his friend and fellow artist Dwight Blaney at work) were painted on Ironbound Island, Dwight Blaney's summer home in Maine, where a number of fellow artists visited him. See the article 'Dwight Blaney: An American Impressionist' in American Art Review, vol. 19, no. 1(Jan-Feb, 2002),p.184-187.
Dwight Blaney's Ironbound Island lies in Frenchman Bay, about 3 miles East of Bar Harbor, ME. Dwight died in 1944, though the family still goes there seasonally.

John Singer Sargent painted Dwight Blaney several times on Ironbound Island, including this painting netitled 'The artist sketching'