Painters of the Maine Coast


Artists' reception: Friday, July 20th. 7-9 pm


Exhibited July 16 to August 15, 2007


"Few if any external influences have made themselves more potently felt in American art than the geographic one exhibited by the coast of Maine. There is something characteristically American typified by these rugged, rocky shores, which has been the inspiration of some of our greatest and most truly national paintings." - Art Historian, Ralph Carey

From the early Hudson River School to the birth of American Modernism, painters have been inspired by the cliffs, islands and the play of light and fog of coastal Maine. Over the years this coastal ecology has been interpreted on canvas into realist, expressionist, impressionist and modernist works that reflect each artist's unique vision. Collectively the artists in this exhibition draw from their direct experience of the magic that is unique to the coastal waters and islands of Maine from Kittery to Quoddy.


Waves (oil on canvas, 20" x 30")

Maria A' Becket (1840-1904)

Gold Leaf frame, 25" x 35"


Maria A' Becket was a well listed American painter who is cited in many American art references of her era. She was born in 1840 in Portland, Maine, Daughter of Charles Beckett, a Maine Landscape and genre painter. In 1865 she studied with Homer Dodge Martin and later with William Morris Hunt in Boston. She was influenced by the Barbizon painters at Pont Aven and painted with the famous French painter Charles Daubigny during a trip to France. At this time she changed her name to A' Becket. Maria A' Becket was a woman artist far ahead of her time; her palette is strong dense, deep with greens, burnt sienna, deep blues, and a mature loose brushstroke that one seldom acquires in a short artistic career displaying her natural talent as well as the experience gained by studying with the masters of early impressionism. She exhibited at the Boston Art Club in 1875, the National Gallery in 1883 and 1888, and at the Pennsylvania Academy of Fine Arts from 1880 to 1884 and the New York's Women's Club to name just a few.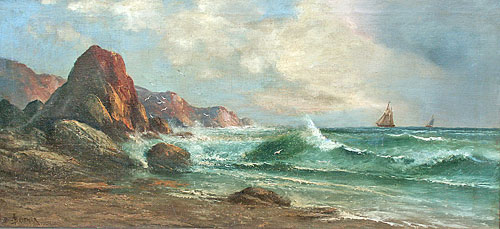 Maine Coast c. 1875
Alfred Thompson Bricher (1837-1908)
16" x 34", with new gold frame 19" x 37"

An Associate of the National Academy, Alfred Thompson Bricher was known especially for his serene, luminist seascapes, reminscent of works by Fitz Hugh Lane and Martin Johnson Heade. Born April 10,1837, Portsmouth, NH, Bricher grew up in Newburyport, MA. Largely self-taught, Bricher studied art at Lowell Institute, Boston in the 1850's. In the 1860s he followed his contemporaries to the White Mountains, and was active in Boston and Newburyport, MA until 1868 when he moved to New York. He executed his best work during the 1870s-80s when he spent many summers painting on the coasts of Massachusetts, Maine (Monhegan Island), and Rhode Island (1871-76), as well on Long Island, especially at Southampton.
Bricher was a significant second-generation Hudson River School landscapist and marine painter who is considered to be the last of the relevant American luminists. He is best known for his marine paintings depicting New England shorelines, in which crashing waves show the dynamic forces of nature.With ease and finesse he captured the natural ambiance around the ocean and its coasts and the artist's reverence for the presence of what is before him is apparent.
Today A.T. Bricher is considered one of the finest marine painters of his era, and his work is in great demand because each of his canvases and watercolors show resplendently and with confident brushwork how nature looked during the late 19th and early 20th centuries.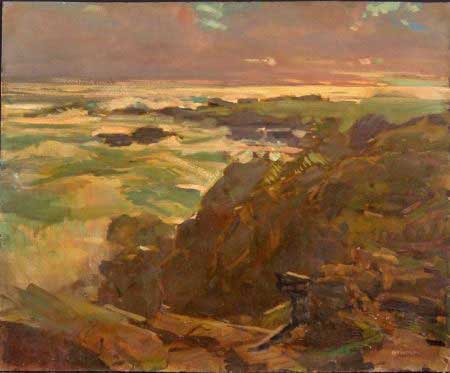 Sunset, Monhegan
Jay Hall Connaway (1893-1970)
Signed "Connaway" l.r., titled reverse.
Oil on board, 24 x 29 in.

Born in Liberty, Indiana, Jay Hall Connaway was fascinated by coastal life and marine scenery, an attraction that had profound effects on his life and artwork. After periodically studying at the Art Institute of Indianapolis and at the Art Students League with William Merritt Chase, Connaway traveled throughout the United States.ndertake further study in Paris at the Academie Julian and at the Ecole des Beaux-Arts. Encouraged by Robert Macbeth (Macbeth Gal., NYC) and artists Paul Dougherty, Emil Carlsen, and Frederick Waugh, he spent 1922-25 painting at Head Harbor, ME. From 1929-31 he was painting in Brittany and Paris, sponsored by Macbeth and Milch. Returning in the midst of the Depression, he and his family settled at Monhegan Island, ME year-round from 1931 until 1947. when they moved to Dorset and then Pawlet, VT. A popular landscape painter with robust brushwork, he gave lectures and demonstrations around the country. He ran a summer school at Monhegan until 1947, and at Dorset, VT until 1966. His work was featured in an unprecedented 85 one-man shows, evidence of his successful and widely renowned career as a skilled sea painter.
New England Seacscape

Wesley Webber (1841-1914)
11" x 22" in 19" x 30" gold period frame


Fine quality oil on canvas painting of a coastal scene (New England) at twilight. The painting is unsigned but I am attributing to the work of a Massachusetts artist who is known for his coastal paintings from the late 19th century. There is a label on the stretcher from Charles Edmonds, a Boston art supplier, and there is a label on the frame from Eben Smith of Lincoln Street in Boston. These are original 19th century labels. The painting is in very good condition with no repairs, paint loss, etc. Nice orange, peach color to the sky and reddish browns and dark greens to the coastal bluff. Original gold double ornate frame is in very good condition but with some of the leaf ornaments missing in the upper left and lower right corners.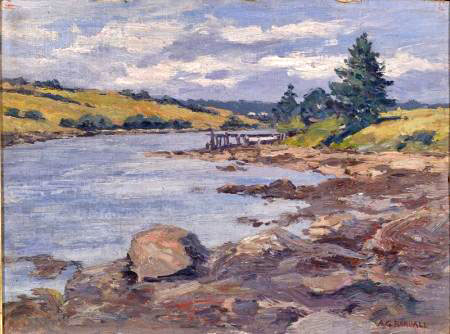 Asa Grant Randall (1869-1948)

"Summer Afternoon at Boothbay"

Oil on canvasboard, 12 x16
Asa Grant Randall founded the Boothbay Art Colony in Maine in the early 1900's. Randall, from Waterboro, Maine, first visited Boothbay in 1905 and loved the area so much, he was back the following summer, launching what became "The Commonwealth Colony of Art and Industry." Here's how he described the area in a later brochure about his school:
"Boothbay Harbor, the beautiful town by the sea, is the gem of the whole coast. It has been said of this town that nowhere is there a spot with the air more odorous with the scent of the evergreen forest mingled with the clear, bracing salty breath of the ocean. Nowhere can the skies be bluer or the waters clearer. Nowhere is the scenery more beautiful or the surroundings more peaceful."

William Sylvester Budworth (1861 - 1938)
Twilight: Biddeford Pool, c.1920.
Watercolor, image size: 10 x 15, framed: 17 x 22

William Sylvester Budworth was born in Brooklyn, NY in 1861 and was a self-taught artist who frequently painted in New England and Maine. He has work in the Rochester Museum and, in 1902 and 1903, won silver medals from the American Art Society in Philadelphia.
The painting is artist signed on the lower left. It remains in its period frame which is labeled on back with a Cincinnati Museum Association exhibition label dated 1925. It also bears a New York Water Color Club and the American Water Color Society label listing the title, artist, etc.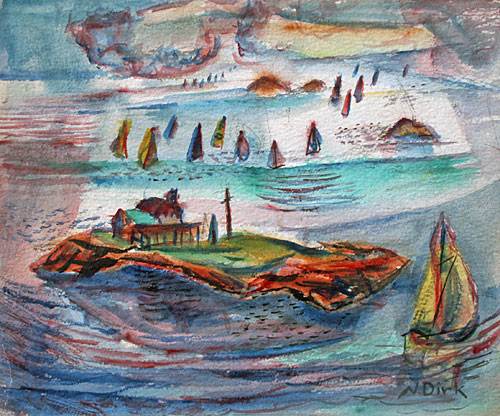 Nathaniel Dirk (1895-1961)
Island and Sails, c.1937. Watercolor.
Image size 8 x 10, mat size 11 x 14

Nathaniel Dirk studied at the Art Students League with Max Weber and Kenneth Hayes Miller and in Paris with Fernand Leger. Beginning in 1939 he taught at the League and lectured there on "Color for the Artist" from 1957 through 1960. He was president of the Cape Ann Society of Modern Art and a member of the Rockport Art Association. He exhibited widely, with thirteen one-man shows in New York City alone. Primarily known as a watercolorist, painting in a style similar to, but not as abstract, as that of John Marin. His work is represented in the collections of the Smithsonian, the Brooklyn Museum, the Whitney Museum of American Art, the National Academy of Design and the Art Institute of Chicago.
(From: Pam Koob, Curator, The Art Students League of New York)

Stanley Wingate Woodward (American, 1890-1970)

When the Wind Blows West

Oil on Canvas 12 X 16 in.
Stanley Wingate Woodward was a Rockport school painter of marine subjects. He was the author of "Adventures in Marine Painting" and "Marine Painting in Oil and Watercolor" He exhibited widely ( the Penn-sylvania Academy, Corcoran Gallery, National Academy, Boston Museum of Fine Arts, etc.) He was awarded many prizes, National Academy, American Watercolor Society, Baltimore Watercolor Society, Rockport Art Association, North Shore AA, etc. His work is in The Boston Museum, Fort Worth, Univ. of Michigan , Bowdoin College, Amherst College, etc.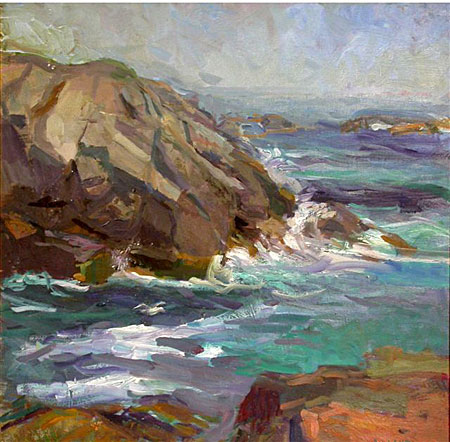 Lorraine Lans
Lobster Cove,
Oil 18 x 18

Lorraine Lans works en plein air in the Impressionist tradition, painting the light on her subject. She studied with master Impressionist painter Henry Hensche at theCape School of Art in Provincetown, Mass. and at the Fenway Studios, Boston. Originally from Massachusetts, Lans has lived in Maine for over fifteen years painting landscapes on Monhegan Island and in the fishing village of Stonington.
Her many awards and exhibitions include national juried shows at the Salmagundi Club, NY, the Ventura County Maritime Museum, CA, the Boston Athenaeum, the "Salon International 2004" and a 2005 exhibition at Greenhouse Gallery of Fine Art in San Antonio, Texas, where art is chosen for excellence in realism. She was awarded a residency at Acadia National Park and her work has been selected to hang in the Governor's Mansion in Augusta, ME. Her work is published in the volume A Gallery of Marine Art and she has been featured in articles in the Cape Cod Review, Ellsworth American, Waterville Sentinel and Manchester Journal.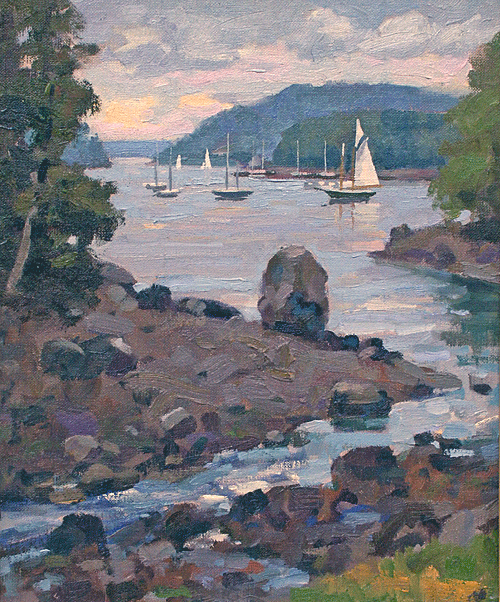 Donald Allen Mosher
Somes Sound, MDI
Oil on Board 16x12

Donald Mosher grew up on the North Shore and has lived in Rockport since 1980. A descendant of ship builders from Nova Scotia and farmers from Maine, Don is naturally drawn to the power of the sea and the tranquility of the New England countryside. His interest in art began after winning his first award at the age of eight, and he has since won over 200 awards for his work. A 1968 graduate of Vesper George School of Art, where he met his wife Christine, Don has been a painting instructor and demonstrator and has been featured in several national publications including Yankee and American Artist Magazine. His paintings hang in the permanent collections of large corporations, institutions, banks, and private homes throughout the United States and abroad including the Peabody Museum, Portland Art museum, and the State House in Boston.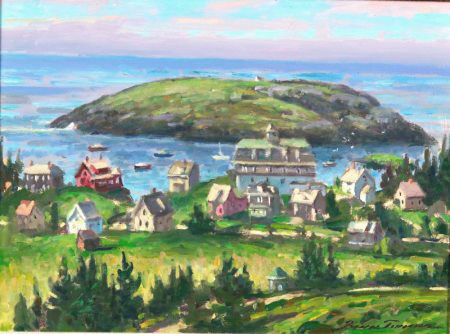 Bruce Backman Turner (b. 1941)

Monhegan Village

Oil on board. 12 X 16 in.
In 1970 Turner began exhibiting his work throughout New England and New York. His work is in private collections throughout the U.S., Canada, England, France, Belgium, Sweden, Saudi Arabia and Australia. Bruce has received over 50 national and regional awards in his career, and is listed in Who's Who in American Art. His work has appeared in "American Artist Magazine", "Monhegan - The Artist's Island" , "The Best of Oil Paintings", and Grumbacher's "Palette Talk". Member: Am Artists Prof League; Copley Soc Boston; North Shore Arts Asn; Chautauqua Art Asn; Salmagundi Club.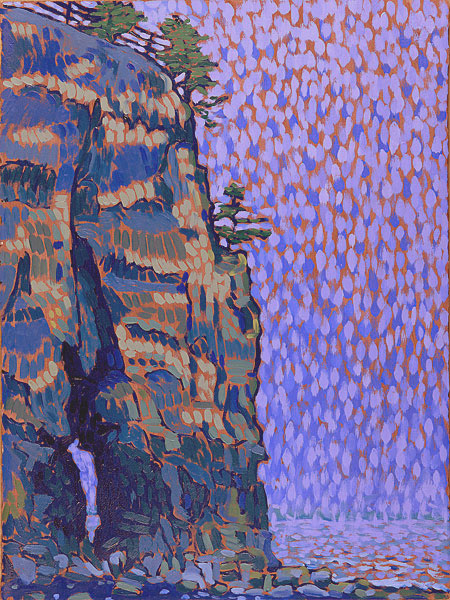 Diane Beem
Cliff Bottom and Fog
Oil on paper 30 x 22

Diane Beem studied Abstract Expressionist painting at Hartford Art School in Hartford, Connecticut, and has been painting professionally for over ten years. She currently lives and works in Cape Elizabeth, Maine.
"My work is about the sensual aspect of experiencing nature, and creating pictorial memories in paint. I am providing abstracted interpretations of my subject matter through the use of bold strokes, dashes, dots, and attention to the overall effect of form and color.
My most recent work focuses on Maine landscape and still life subject matter as seen through the filter of memory. The experience that I take away form being in nature shifts and changes shape in my mind. What I actually see becomes fragmented, pulled apart and reconstructed. In retrospect, feelings are heightened and intensified. Senses collide and conjure up something familiar, but liberated from reality."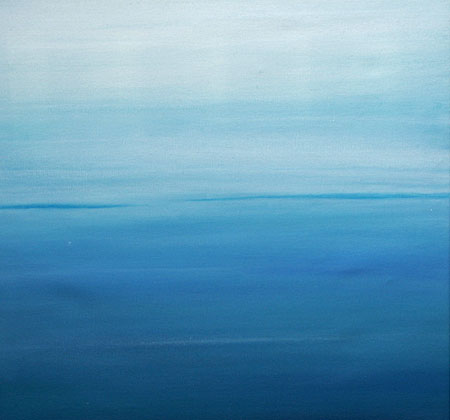 Placid Day (oil on canvas, 24" x 24")

by Gudrun Kiefer Tarr

Living on the Maine coast overlooking Penobscot Bay, and sailing the Maine waters during the summer months, Gudrun Kiefer Tarr's work reflects her ongoing fascination with the ever-changing and mysterious interaction of light, ocean, and land. On the water, the constant of a horizon in the seemingly infinite space becomes a very special visual focus, as is evident in much of her work.
A long-time art educator, Gudrun was born in Germany and studied fine art at the prestigious Kunstakademie Dusseldorf and in the United States at the University of Massachusetts in Amherst, where she received a University Fellowship, and at the University of Maine. In addition to heading the art department of the Bangor school system, she has served as a model art curriculum consultant to a number of school districts and was the recipient of the 1993 Distinguished Service Award of the Maine College of Art.
Brad paints a variety of landscape scenes from Maine's dramatic shoreline. His paintings reflect his deep appreciation for the works of many fine artists, including Edward Hopper and the nautical scenes of John Stobart. Brad has been an artist for over 15 years and received his education from the University of Maine in Orono. He comes from a long line of artists that includes his father and grandparents. He has studied with Carolyn Blish and Don Demers and is a member of the American Society of Marine Artists.
Leveque's Boathouse
Oil on Linen 16 x 12

Andre Lucero


Andre paints the Maine landscape by heading out at dawn off the beaten track and discovering the charm the coast has used to seduce painters from Cole to Kent. He is an associate member of the Oil Painters of America and a member of Mid Atlantic Plein Air Painters Association, and The Jack Woodson Sketch Club (plein air painting group, Richmond, Virginia).

After earning a BFA, cum laude, in 1989, Andre worked for more than a decade as a free-lance illustrator. During that time, his illustrations appeared in numerous publications including The New York Times, The Washington Times and many other publications. Despite widespread acclaim (1995 Virginia Press Association Best of Show Award and the 1994 Award of Excellence from the Art Directors' Club of Metropolitan Washington, D.C.), Andre decided to leave the field of illustration and devote his full attention to his first love, painting. Andre Lucero lives and maintains a studio near Richmond, Virginia.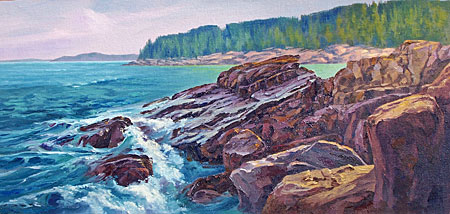 Endless Rhythms (oil on canvas, 12" x 24")
by William Marvin

William Marvin is privileged to be able to capture the ever-changing moods of nature, out in the open, fresh and unspoiled. Bill attended the Art Center College of Design in Pasadena taking extensive courses in design, drawing, painting and illustration. Upon graduating with honors in 1974 he came to Chicago to begin a challenging career as a graphic designer. Bill started showing his landscapes in 1996 and immediately began to draw attention from collectors. His work embodies dynamic compositions and an impressionistic use of color. The results are paintings that are vibrant with light and energy. He has painted throughout the Midwest and the Southwest, and most recently the Maine Coast and Acadia National Park. Bill's artwork hangs in private and corporate collections throughout the United States.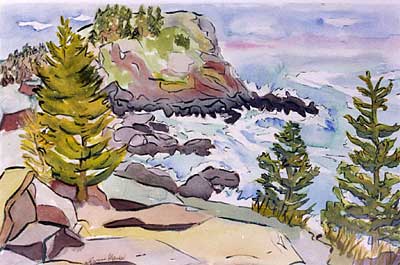 Rocks and Shoals, Monhegan (watercolor, 14" x 21.5")

Bonnie Alpander

Maine native Bonnie Alpander graduated from the University of Maine, Orono with a BS degree in Art Education. She also took advantage of several years abroad to visit museums and study art in Turkey, France and the Netherlands. Drawing upon this background in the Fine Arts, a clear influence of contemporary landscape artists is revealed in her watercolors, as she continues to develop her own unique style. "My greatest love is to paint on location, discovering new colors, patterns, and rhythms while capturing the intimacy of nature." Her love of plein air painting is expressed by annual pilgrimages to Acadia, Monhegan, and destinations along the Maine Coast.
Keith Schneider grew up in rural Connecticut surrounded by woods and fields yet within walking distance of Long Island Sound. Now living and painting en plein air on the coast of Maine and Islesboro, his vibrantly colored canvases with bold powerful brush strokes are a reflection of his connection to Nature. "I feel that the greatest gift that we can have in life is to be doing what we love to do and sharing that love with others. The solitude and inner peace I find at the water's edge melds into my work … clouds come and go, the tide ebbs and flows, the light and sounds and wind and colors constantly change and when the painting is complete it represents a time capsule that was forever changing and evolving, a mirror of the incredible gift of the miracle of life."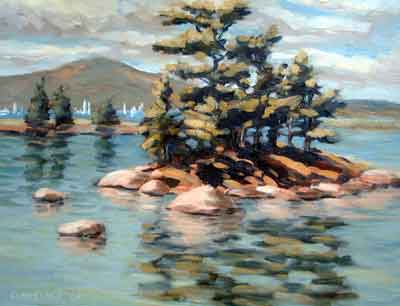 The Island, Blue Hill Bay
Gail Cleveland

Gail Cleveland daughter of well-known Maine artist, Wini Smart, has been painting all her life. She spends her summer on Mount Desert Island and winters in the Narrows where she paints pleine air landscapes of Acadia and surrounding areas in all four seasons. A hiking enthusiast, Gail has painted large watercolors reflecting the picturesque beauty of the peninsula as seen from atop Blue Hill.
Huckleberry on Ledges (11 x 14 oil on canvas)
Valerie Aponik

Prefers to paint en plein air along the coast of Maine near her home on Great Wass Island. Primarily self-taught, she has also studied with Louis Griffel, Betty Billups, Louis Borne, Peggy Graf and Greg Henderson. Her work is exhibited in galleries and juried shows throughout Maine.
"My passion is for oil painting en plein air in all seasons. Inspiration is drawn from tidal places, primarily Great Wass Island, that reflect a place and life that seems timeless . The challenge is to freshly capture the light, form, tide using color and passion with knife, brush or my fingers--to bring you the moment."
For prices of these and other works in this exhibition please see the "paintings and artists" section of the site. Better still, stop by and visit the gallery anytime during the summer or for the opening reception on Friday, July 20th, 7-9 pm
See the calendar for future exhibitions.