Monhegan Vistas

Exhibited Aug 15 to Nov 1, 2012

"Few if any external influences have made themselves more potently felt in American art than the geographic one exhibited by the coast of Maine. There is something characteristically American typified by these rugged, rocky shores, which has been the inspiration of some of our greatest and most truly national paintings."
- Art Historian, Ralph Carey

Monhegan shows no sign of relinquishing top spot in the US for landscape painting. Easily the most painted square mile in America, artists continue to flock to Monhegan Island during the summer to test their skills against its rugged cliffs and picturesque fishing village. At summer's end we will be displaying classic and new works of Monhegan that reveal the wonderful diversity of images created on this magical island.
Paul Bernard King, N.A. (1867-1947)
Monhegan Island Harbor
25 x 30 Oil (relined),Antique carved frame 31 x 36
Price available upon request
Versatility, artistic maturity and mastery of technique and medium are hallmarks of Paul King's art. His diverse works of portraits, landscapes, rural scenes and illustrations establish his reputation in the first quarter of the century.
From 1906, when his oil painting "Hauling in the Anchor Line" (date and location unknown) captured the Salmagundi Club's top two prizes, King regularly received recognition. His merit was freely acknowledged by his artist peers, as well as by the critics and the public.
King was born in 1867 to a Buffalo, New York goldsmith. Apprenticed there to a lithography firm, he became an accomplished printer. King later studied at the Art Students League of Buffalo and, from 1901 to 1904, at the New York Art Students League with Henry S. Mowbray. While a student, he was an illustrator for "Life" and "Harper's" magazines. From 1905 to 1906, King studied in Holland with Willy Sluiter, Evert Pieters and Bernard Bloomers.
He was a board member of the Philadelphia School of Design for Women, serving as vice president and acting president, from 1908 to 1921. In 1921, he moved from his long-time home in Germantown section of Philadelphia to Stony Brook, Long Island, where he died in 1947.
Memberships: Allied Artists,America Federation of Arts, Artists Aid Society, Artists Fund Society, International Society of Arts and Letters, Pennsylvania Academy of Fine Arts, Philadelphia Art Club, Salmagundi Club
Public Collections:Albright-Knox Gallery, Buffalo; Butler Art Institute, Youngstown, Ohio; National Gallery of Art, Washington, D.C.; Reading Museum, Pennsylvania; Los Angeles Museum; Houston Art Museum; New Pantheon, Nashville, Tennessee. (From "American Art Analog").
Biography from Roughton Galleries,Inc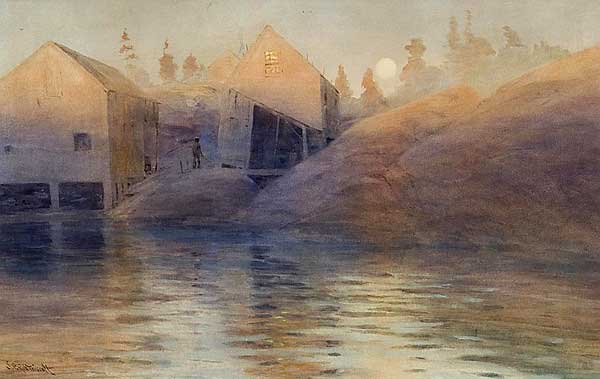 SAMUEL PETER R. TRISCOTT (1846-1925)
Ernest Wincapaw's and the Brackett Fish House, Monhegan
Watercolor 17 x 27 in.
$7500

Samuel Peter Rolt Triscott was born January 4, 1846 in Gosport, England. He was one of five children and had a genteel middle class upbringing. Triscott studied civil engineering. His artistic training in painting was at the Royal Institute of Painters in Water Colors in London under Philip Mitchell.

In 1871 Triscott moved to America and settled in Worcester, Massachusetts where he was a partner in a civil engineering firm. In 1874 he began selling paintings from his office in Worcester. In 1881 Triscott had a one man show at the Boston Art Club. His style of painting with fluent washes of transparent color, though a change from the accepted norm, was well received. Triscott worked as a painting teacher during this time and it is believed his students included Winslow Homer, Sears Gallagher, William J. Bixbee, Woodbridge Gee, Melbourne H. Hardwick, Charles Copeland, William Ladd Taylor, and Robert Henri.

Triscott became quite active in the art world and showed regularly at the Boston Art Club, the American Watercolor Society in New York, The Pennsylvania Academy of Fine Arts and the Gallery of J. Eastman Chase. In 1885, he was one of the founding members of the Boston Society of Water Color Painters.

Triscott began visiting Monhegan Island off the coast of Maine in the early 1890's. The artist purchased a large lot of land which he sold off for cottages in his later years. Every year Triscott increasingly spent more time on the island eventually staying there year round. On April 28, 1894 Triscott was naturalized in Boston. He returned to Monhegan Island and continued to show his work and receive exceptional reviews. S.P. R. Triscott died on April 15, 1925 on Monhegan Island.

Source:
"American Art Review", December 2002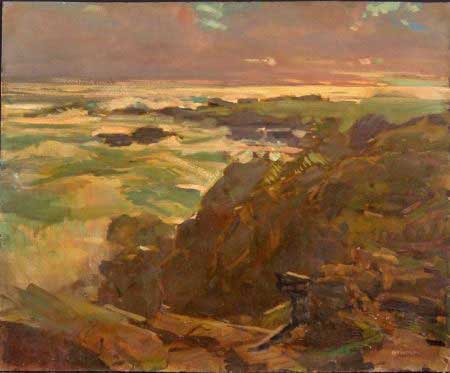 Jay Hall Connaway (1893-1970)
Sunset, Monhegan

Oil on board, 24 x 29 in.

$4500

Born in Liberty, Indiana, Jay Hall Connaway was fascinated by coastal life and marine scenery, an attraction that had profound effects on his life and artwork. After periodically studying at the Art Institute of Indianapolis and at the Art Students League with William Merritt Chase, Connaway traveled throughout the United States.ndertake further study in Paris at the Academie Julian and at the Ecole des Beaux-Arts. Encouraged by Robert Macbeth (Macbeth Gal., NYC) and artists Paul Dougherty, Emil Carlsen, and Frederick Waugh, he spent 1922-25 painting at Head Harbor, ME. From 1929-31 he was painting in Brittany and Paris, sponsored by Macbeth and Milch. Returning in the midst of the Depression, he and his family settled at Monhegan Island, ME year-round from 1931 until 1947. when they moved to Dorset and then Pawlet, VT. A popular landscape painter with robust brushwork, he gave lectures and demonstrations around the country. He ran a summer school at Monhegan until 1947, and at Dorset, VT until 1966. His work was featured in an unprecedented 85 one-man shows, evidence of his successful and widely renowned career as a skilled sea painter.

Mark is a contemporary realist painter with 30 years experience and a background that includes training in New York at the Arts Students League and the National Academy, as well as several Paris ateliers. He began painting in Maine in the mid 70's with a group of artist friends who came for summers to paint Maine's rocky coast and its many islands. Because he draws his inspiration from those places and things close to him, he eventually relocated to Maine in 1984.

He has shown his work in galleries in New York, California, Florida, North Carolina, and Maine, and was the subject of a feature article in the May, 1995 issue of American Artist Magazine. His work is represented in The Portland Museum Art (The Elizabeth Noyce Collection) and in many private and corporate collections throughout the U.S. and abroad.

Churning Cove
by Mark Haltof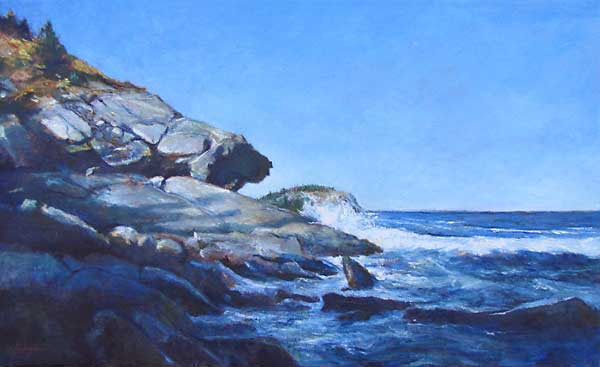 Mark Haltof
Monhegan Surf
Oil on Canvas 18 x 28 (26 x 36)
Neal Hughes
Neal Hughes' paintings are rooted in the American realist tradition as defined by artists such as Winslow Homer, Thomas Eakins and Andrew Wyeth. With a traditional approach to composition and technique his work incorporates contemporary design with a classical sensibility.
Interested in art from an early age, Neal first started painting when he took art lessons in grade school. He went on to graduate from the Philadelphia College of Art (University of the Arts) and his work is included in numerous private and corporate collections. Neal is a signature member of the American Society of Marine Artists, and has won numerous awards, including the Maritime Gallery Yachting Award and an Award of Excellence at the prestigious International Marine Art Exhibition at the Gallery at Mystic Seaport. In addition, he was the grand prize winner of the Utrecht 60th Anniversary Art Competition, winning the top prize out of over 12,000 entries.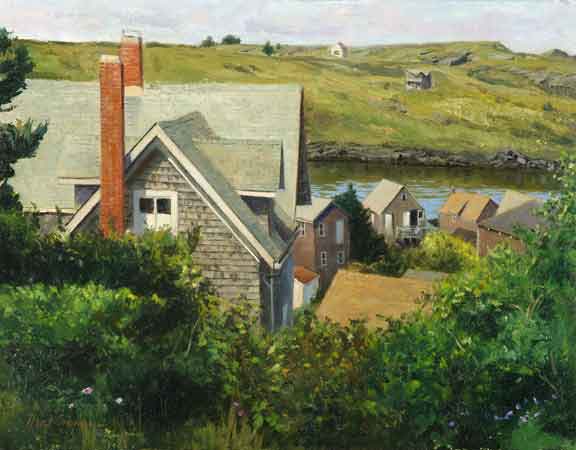 September Sun, Monhegan
Monhegan Houses
by Neal Hughes

Oil on Canvas 12 x 12

Caleb Stone studied at the Lyme Academy College of Fine Arts in Old Lyme CT. Since then has been regularly teaching workshops classes , traveling and painting. He works in both watercolors and oils. He has been the recipient of numerous awards, including the John Stobart Fellowship Award , The New England Heritage Award , The Wood Award for Excellence in Watercolor, The Land and Light Gold Medal , Best in Show Manchester by the Sea and most recently achieved Elected Artist at the Lyme Art Association. He grew up in the art colony of Rockport MA. and was exposed to plein air painting by his father Don Stone N.A. at a early age. His attraction to the French and American impressionists and choice of art as a career grew from and was nurtured by this environment. He currently resides on Cape Ann in Massachusetts.
Winter Morning, Monhegan
Caleb Stone
24 x 30 Oil on Canvas
$7000 Framed

The Headlands, Monhegan
Caleb Stone
16 x 20 Oil on Canvas
$2400 Framed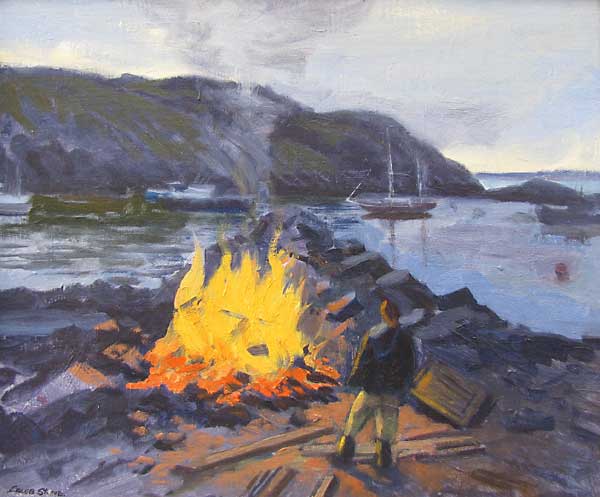 Island Burn
Caleb Stone
20 x 24 Oil on Canvas
$3800 Framed

Swedish born artist, Bertil Whyman, paints coastal Maine with a strong emphasis on color and light. Depicting the atmosphere of the scene is very important to Whyman who attempts "to rediscover who we are by portraying images of where we have been." The old houses, docks and boats, that fill his paintings, represent the care and quality that went into hand crafted items of years ago. Inspired by Vermeer, Manet, Homer and Sargent, Whyman is a self-taught artist whose paintings have been exhibited at galleries throughout Maine, Maryland and Vermont.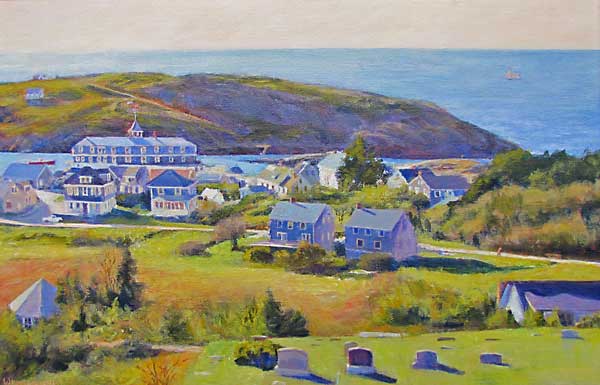 Bertil Whyman
Monhegan & Manana
16 x 24 Oil on Linen
$3200
Bertil Whyman
View fron the Inn, Monhegan
12 x 16 Oil on Linen
$1600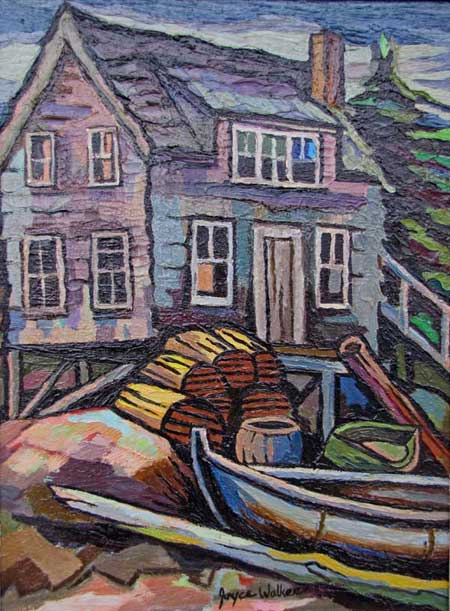 Joyce Walker
Fish Beach, Monhegan 1949
Oil on artist's board, 12 x 16 in
16 x 20 in period chestnut frame.
$1200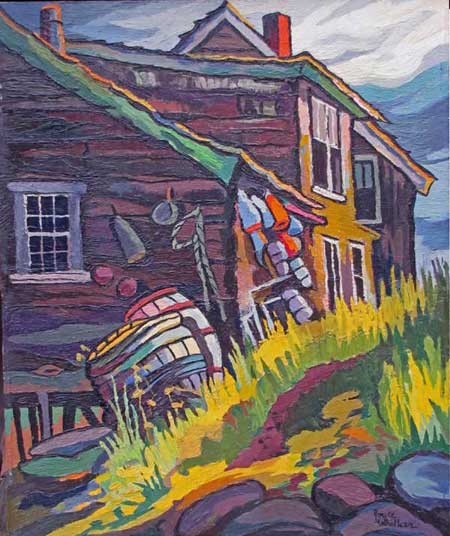 Joyce Walker
Lobsterman's Backyard, Monhegan 1949
Oil on artist's board, 20 x 16
Framed in Gold 25 x 21
SOLD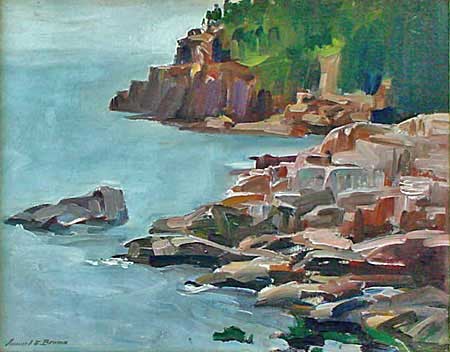 "MONHEGAN SHORELINE"

SAMUEL EMMONS BROWN (1886-1964)
ORIGINAL OIL ON CANVASBOARD 16" X 20"
AMERICAN STYLE ARTS & CRAFTS FRAME 21.5" X 25.5"
$1800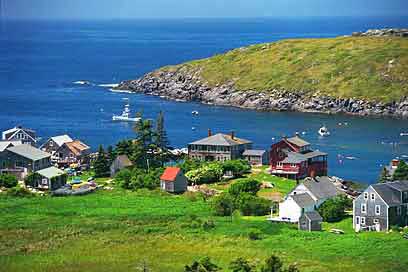 )

Monhegan Village

11 x 14 matted photograph
$60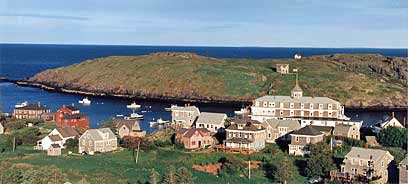 )

Monhegan and Manana

8 x 16 matted photograph
$60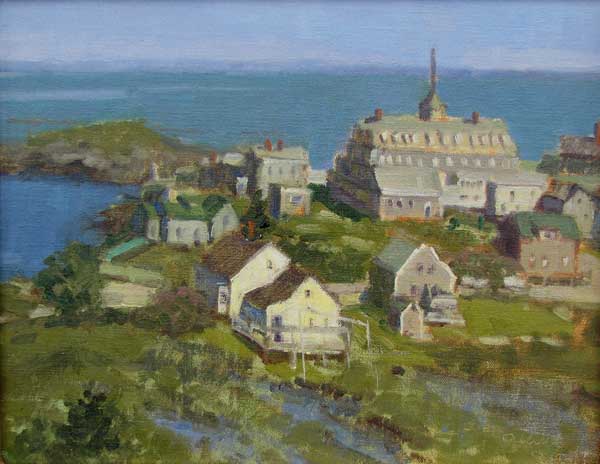 Monhegan Vista
11 x 14 Oil
Diane Scott

$900 Framed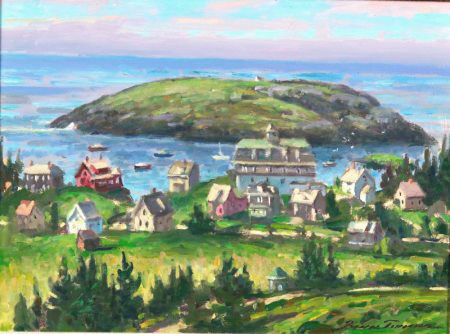 Bruce Backman Turner (b. 1941)

Monhegan Village

Oil on board. 12 X 16 in.
$800
In 1970 Turner began exhibiting his work throughout New England and New York. His work is in private collections throughout the U.S., Canada, England, France, Belgium, Sweden, Saudi Arabia and Australia. Bruce has received over 50 national and regional awards in his career, and is listed in Who's Who in American Art. His work has appeared in "American Artist Magazine", "Monhegan - The Artist's Island" , "The Best of Oil Paintings", and Grumbacher's "Palette Talk".
Member: Am Artists Prof League; Copley Soc Boston; North Shore Arts Asn; Chautauqua Art Asn; Salmagundi Club.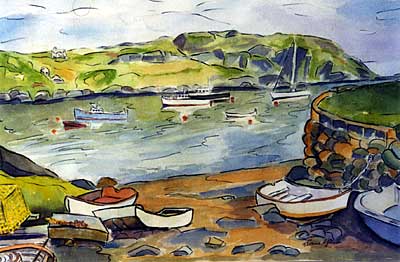 Swim Beach (watercolor, 14" x 21.5")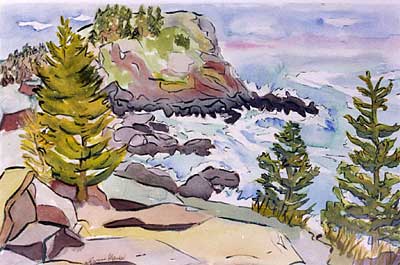 Swim Beach (watercolor, 14" x 21.5")

See the calendar for future exhibitions.