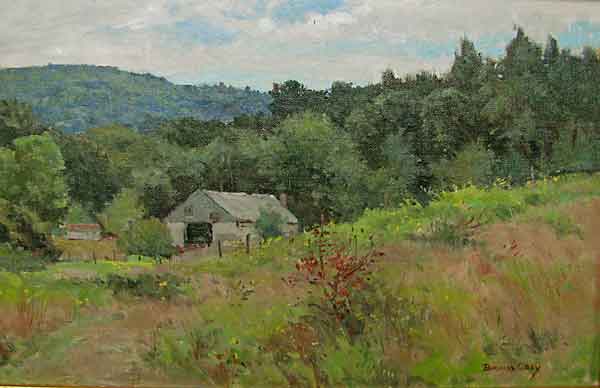 Bernard Corey (1916-2000)
Summer Field
oil on board 9x14, signed Bernard Corey, l.r.
Framed Goldleaf 12 x 16.5
$3200

Bernard Corey is one of New England's most beloved landscape painters of the 20th century. He executed paintings surely en plein aire with accuracy and competence. Memberships included the Rockport Art Association, Salmagundi Club, the Guild of Boston Artists, North Shore Art Association and more. Having won over 100 awards and honors, including awards at the North Shore Art Association, Rockport Art Association, Salmagundi Club, NYC, Hudson Valley Art Association, Providence Water Color Club, Allied Artists of America and many more. He painted almost every day of his life with fellow artists in the fields, along the streams and beaches and in the mountains in and around New England. Although the artist traveled throughout the world, Paris made little impression on him. He was American through-and-through.

Bernard Corey was the "last of the old school" of traditional New England landscape painters. When he died early in 2000, the era when artists painted for ten hours a day, every day with competency came to an end. Corey's carefully painted impressionistic plein aire canvases captured the essence of nature in all four seasons. The Rockport Art Association gave Corey a retrospective exhibition (October-November 2000) saluting the artist's profound understanding of nature and painting.