Carl Gordon Cutler (1873-1945)
"Umbrella Pine"
Watercolor on paper, 19.5x 24.5"
Framed 30 x 37
$2400
Carl Gordon Cutler (1873-1945)
"View Through the Trees"
Watercolor on paper, 17.5x 24.5"
Framed 30 x 37
$2400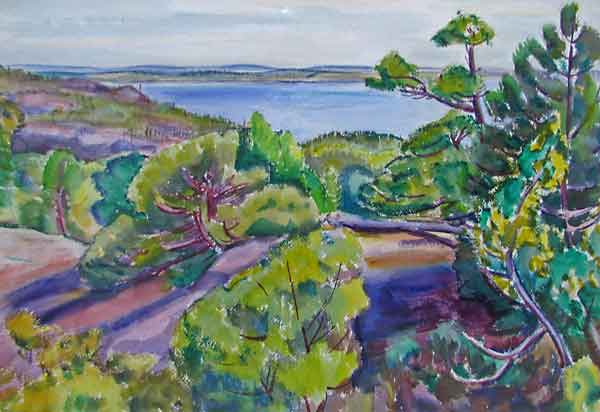 Carl Gordon Cutler (1873-1945)
"View of Eggemoggin Reach"
Watercolor on paper, 17.5x 24.5"
Framed 30 x 37
SOLD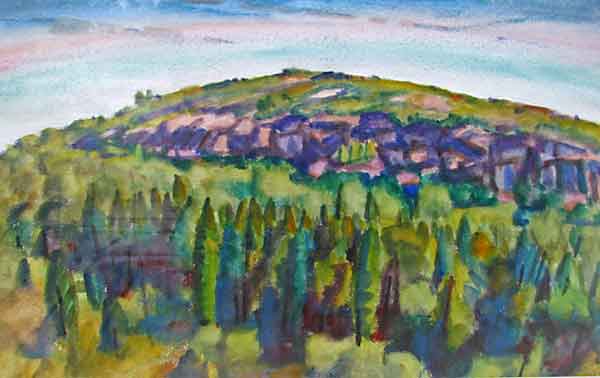 Carl Gordon Cutler (1873-1945)
"After the Rain"
Watercolor on paper, 17.5x 24.5"
$2400 Framed (30 x 37)
Carl Gordon Cutler (1873-1945)
"Near the Artist's Cottage"
Watercolor on paper, 19.5x 24.5"
SOLD
Carl Gordon Cutler was born in 1873 in Massachusetts. Though educated in the painting of portraits in oil, his two major artistic passions would become the landscape of Maine and the use of watercolor. His watercolors, influenced by Fauve color and John Marin's forms, were exhibited in Europe and the eastern United States, in Boston; Philadelphia; the Museum of Modern Art, and Whitney Museum of American Art, both in New York City; and, farther west, at the Art Institute of Chicago, Illinois; as well as Paris, France. Cutler had more than a dozen one-man shows in New York City and Boston.
Cutler studied in the late 1890s at the School of the Museum of Fine Arts, Boston, where influence of the old masters on the painting of oil portraits was strong. He also worked at the Academie Julian in Paris. Cutler had some exhibition success there, but it would take several years after his return to America before his mature style would appear.
With fellow Academie Julian painters Charles Hovey Pepper, Maurice Prendergast, and E. Ambrose Webster, Cutler formed "The Four Boston Painters" in 1913. But it was later that year at the earth-shaking Armory Showintroducing Modernism in art to the United States, and where he exhibited--that Cutler and so many other American artists were directed toward avant-garde ideas, and away from what they saw as the bourgeois mundaneness of American art.
Cutler first painted the Maine coast soon after the Armory Show. By the mid-1920s, he was painting watercolors of the state's landscape exclusivelyviews of Deer Isle, Mount Desert, the Camden Hills and--for thirty summers, Eggemoggin Reach, where Cutler had a cottage. The artist received the plaudits of the critics and acclaim from the public. He spent the last 30 years of his career focusing entirely on painting Maine's Penobscot Bay region.
Carl Cutler was a respected color theorist. In his 1923 book Modern Color, with Stephen C. Pepper, he explained a detailed system involving a scale of 168 colors, telling how to imitate the appearance of natural light through their use. He also discussed emotion as a significant element in artistic creation. In 1994, the Vose Gallery, in Boston, put out a color brochure, Carl Gordon Cutler Along the Maine Coast 1873-1945. Also in the 1990s, the Babcock Gallery, in New York City, published Carl Gordon Cutler, American Modernist Rediscovered, a paperback with forty-four color reproductions and an essay. In 1998, the Portland Museum of Art, in Maine, held an exhibition, "Modern Color": Maine Watercolors by Carl Gordon Cutler, comprised of sixteen out of a total of fifty-nine Cutler watercolors bequeathed a year earlier to the Museum by Mr. and Mrs. James E. Haas. Also in 1998, the College of the Atlantic, Bar Harbor, Maine, exhibited fourteen of Cutler's Maine coastal landscapes painted in the South Brooksville area on the Blue Hill Peninsula.