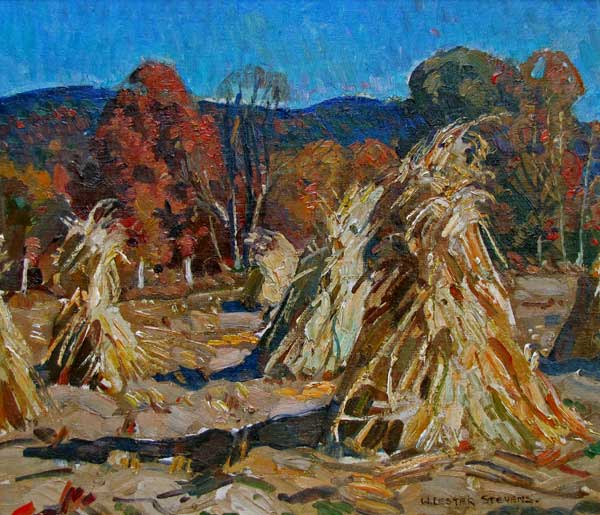 William Lester Stevens (American, 1888-1969)
Autumn Haystacks
14 x 16 Oil on artist's board
Period carved gilt frame 17-1/4" x 19-1/2"
PROVENANCE: The John F. Gale Collection, Cambridge, MA
SOLD
Born in Rockport, Massachusetts, Stevens spent four years at Boston's Museum of Fine Arts School, where he studied under Edmund Tarbell, among others. Primarily an oil painter, he also used watercolor and acrylics. He is best known for his post-impressionistic landscapes. Throughout the course of his long career, Stevens taught, first in Rockport, then at Boston University (1925-1926) and Princeton (1927-1929), and during the Depression at Grand Manan.
He was a National Academician and a member of the American Watercolor Society; a founding member of the Rockport Art Association; Springfield, MA Art League; Guild of Boston Artists; Gallery on Moors; New Haven Paint and Clay Club, CT; Gloucester Society of Art; North Shore Art Association; Boston Watercolor Club and the New York Watercolor Club. He won art awards at the Corcoran Gallery, Washington, DC; American Watercolor Society; New Haven Paint and Clay Club; Springfield Art League; Salons of America; Washington Watercolor Club; North Shore AA; Rockport AA and more. He painted USPO murals in Dedham and Rockport, MA, the Boston City Hall, the Louisville, KY Art Museum and several schools in Boston. References: Movalli, Charles, American Artist (April 1986); Who's Who in American Art (1947); Who Was Who in American Art (vol. 3, p. 3171-72).