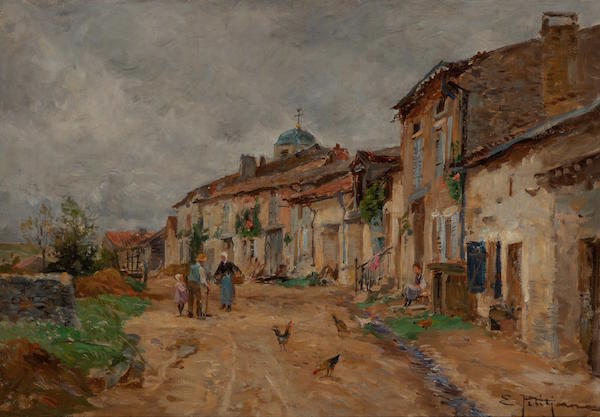 Edmund Petitjean, French, 1844-1925
La rue St. Jacques a Parthenay
Oil on canvas 24 x 30, in original frame 32 x 38
$3200



French artist Edmund Petitjean was born in 1844 in Vosges and died
August 7, 1925, in Paris. Throughout his lifetime he painted views of
French rivers, towns, villages and ports on the Atlantic coast. He first
exhibited in Paris in 1874 at the Salon des Artistes Français, of which
he became a member in 1883. He was awarded an honourable mention in
1881, a first-class medal in 1884, a second-class in 1885, a silver at
the Paris Exposition Universelle of 1889, and a gold at the Exposition
Universelle of 1900. He was declared hors concours, and made a Chevalier
of the Légion d'Honneur in 1892. Today his work is represented in many
museums throughout France, including Le Musee D' Orsay in Paris.