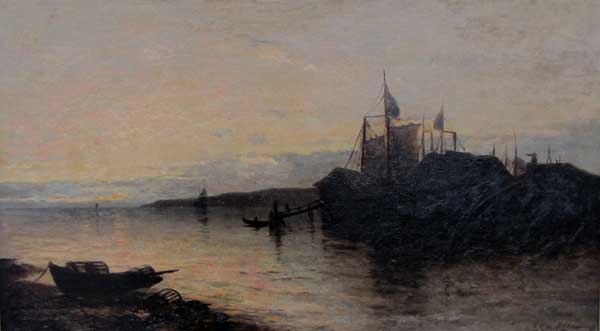 Frank Knox Morton Rehn, NA (1848-1914)
Evening on Gloucester Bay
Oil on Canvas, 16 x 28 in.
$6000
Frank Knox Morton Rehn was born in Philadelphia in 1848 and attended the Pennsylvania Academy of the Fine Arts. A renowned marine painter, he was well known in both the Philadelphia and New York art worlds. His luminist seascapes of Maine and Massachusetts were highly popular and critically acclaimed. He was elected a full member of the National Academy of Design and president of the prestigious Salmagundi Club.
Rehn won first prize at the St. Louis Exposition of 1881, gold medals at New York City's Prize Fund Exhibition of 1886 and the American Art Society exhibition of 1901, and the bronze medal at the Buffalo Pan-American Exposition of 1901. His work is featured in the Corcoran Gallery of Art, the Newark Museum, the Pennsylvania Academy of the Fine Arts, and the Detroit Museum of Art.