The Barbizon Influence on American Tonalism


Exhibited May 15 to July 15, 2009

next exhibit all exhibits


This exhibit features a selection of French Barbizon works followed by American paintings of the Tonalist tradition.

In the 1820's a group of French naturalist painters beginning broke from formal traditions of landscape painting and initiated a new style that was to influence the direction of landscape art into the 20th century. The school eventually took its name from the village of Barbizon on the outskirts of the Forest of Fontainebleau where they often painted. Barbizon artists are considered the first "plein-aire" painters, painting directly on site rather than completing their scenes in studios from sketches. These new landscape painters expressed fascination with changing seasons, changing times of day and the effects of transient light on the landscape. Barbizon artists had no uniform style but were identified because of their commitment to portraying the details of the natural world rather than the formal and romanticized images of their predecssors. Following Millet, they often included working peasants in their landscapes, which was antithetical to the prevailing approaches to fine art. Théodore Rousseau had been the first to settle in Barbizon in 1836 where he had escaped, discouraged by his lack of success at the Salons. Diaz, Millet, Jacque, and scores of others had later joined him in the tiny village surrounded on three sides by a plain stretching as far as the eye could see. At Barbizon, Rousseau, Diaz and their friends had rediscovered nature together with Corot and Daubigny. Although the individual methods and concepts of the Barbizon painters differed considerably, they had in common a complete devotion to nature and a desire to be faithful to their observations.

Diaz de la Pena (below) excelled in somber woodland interiors in which spots of light or strips of sky shining through the branches would create dramatic contrasts.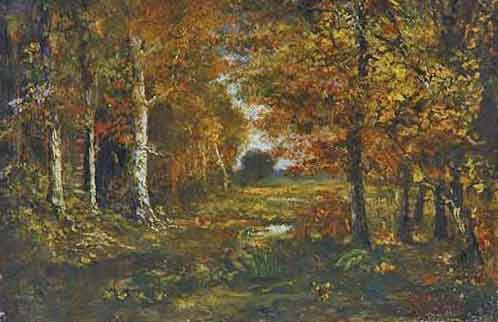 Narcisse Virgile Diaz de la Peña (French, 1808-1876)
Foret de Fontainbleau
Signed "Diaz" l.r.
Oil on board, 8 x 12 in.
antique Barbizon frame
SOLD
Narcisse Diaz, a French landscape and figure painter and founding member of the avant-garde Barbizon school, was born in Bordeaux of Spanish parents. His parents were refugees from Joseph Bonaparte's Spain. By the age of ten, he was a penniless orphan in the care of a priest at Bellevue near Paris.(1). The young Narcisse, who had lost one of his legs to blood poisoning, was apprenticed as a pottery decorator in Paris at the age of 15, which may account for his later predilection for bright colors and his rather free draftsmanship. His handicap, and its impact on his mobility, were to be determinant in the course of his future career. As was a common practice, Narcisse learned to paint at the Louvre, where he was drawn to the works of the colorists. His early inspiration came most notably from Correggio, whose Antiope he repeated and interpreted in his own Nymphe Endormie (also in The Louvre).
Narcisse first exhibited at the Salon between 1831 and 1837. From 1837 to 1844, he was a founding member of the Barbizon school, named for a small village at the edge of the Forest of Fontainebleau. It was during this period that his future greatness became manifest. During the ensuing years, he was awarded three Salon gold medals for painting, and, in 1851, was named a Knight of the Legion of Honor. At the 1846 Salon, Narcisse's entries garnered the praise of Théophile Gautier: "There is in painting, as in music, a purely sensual side, in which the eye delights in the color - as the ear delights in the note - for its own value and sonority ... A major green or a minor yellow are delicacies which charm the eye. One can but admire the love of hues for their own sake which Diaz manifests, and on which his reputation rests." With the Salon of 1848, the Barbizon School of painters became a definite, recognized entity, dominating French landscape painting through the late 1860's.
Well into the 20th century, until Impressionism took over, the art of Diaz, Corot, Daubigny, Théodore Rousseau and Millet constituted the natural vision of the world, the most sought-after art in Western culture. Collections of Diaz de la Peña's paintings are in The Louvre, The Reims Museum, and The Metropolitan Museum of Art in New York (which has A Clearing in the Forest of Fontainebleau), the Museum of Fine Arts, Boston, and his Valley Marsh at the Cincinnati Art Museum. There is a significant collection in Paris (32 at the Louvre), in London (four at the National Gallery, four at the Victoria and Albert Museum, and three in the Wallace Collection), and at The Hague (eight at the Mesdag Museum).
Biography from Westbrook Galleries:

Figure in a Dark Forest, c.1870
oil on canvas 20x26, 28x34 Framed
Available
By the mid-19th century there was a large and loosely organized movement with hundreds of notable adherents. Chief among the French Barbizon painters were Camille Corot, Francois Millet, Theodore Rousseau, Charles Daubigny and Narcisse Diaz de la Pena. American painters much influenced by the Barbizon School were George Inness, Homer Dodge Martin, Alexander Wyant, and William Morris Hunt .


Coucher de Soleil
Charles-Francois Daubigny (1817 - 1878)
SOLD
The first of the great plein aire painters and a key figure associated with the Barbizon School, Daubigny was highly influential in connecting the work of the landscape masters of his own generation with the impressionists and their contemporaries who followed them. Daubigny worked directly from nature in order to capture the everly changing light that illuminated his favorite subjects. This beautifuly rich and sumptuous impressionist landscape depicting a wonderful sunset was probably painted alla prima from his floating studio on the River Oise. It is signed and dated lower left: 'Daubigny 1865'. It is framed in an ornate gilded period frame.

Au bord de la riviere
Jacques-Henri Delpy (1877-1957)

Available
Jacques-Henri Delpy was the talented son of the French artist Hippolyte-Camille Delpy, a student of Daubigny. Like his father he is known for his detailed paintings of landscapes, villages, rivers, lakes, fishermen, and boats. Here he depicts the exquisite evening light of a sky with wisps of clouds, reflected in the River Oise and illuminating the riverside farm.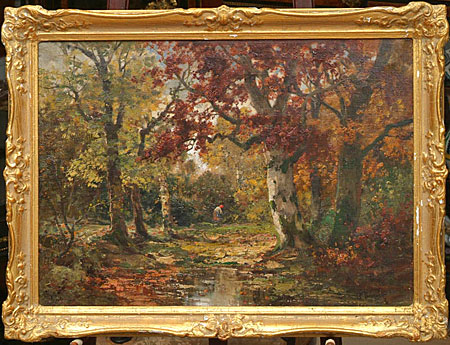 Foret d'Autumne
P. Dumont
AUTUMN FOREST ca 1930
oil on canvas 19 x 25
Period Gold Frame; 24 x 30
signed lower right "P. Dumont"
Condition: excellent with no restoration

Available
This post-Barbizon era painting is reminiscent of the extraordinary forest interiors painted on site in the forest of Fontainebleau by the first generation of Barbizon painters, particularly Rousseau and his pupil Diaz de la Pena. Compare it with the Barizon Forest masterpiece by Diaz de la Pena above

Jose Weiss (1859-1919)

Untitled Barbizon Study (oil on Board, 22" x 26")
Gilded Antique Wood Frame, 27" x 31"

Available
Jose Weiss was born in Paris in 1859 and emigrated to England in 1893. He ived at Houghton, near Arundel, from 1897 and painted the Sussex landscape. His unusual hobby was that he was one of the nations first glider pilots. Weis exhibited Barbizon style landscapes such as this forested pond at the RA, RBA and the Paris Salon.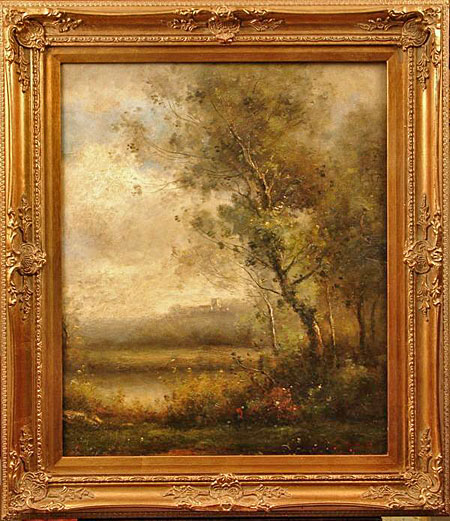 Homage to Corot
G. Wildy (French 20 century)
oil on canvas 20 x 26 in/ 28x34 Framed
Available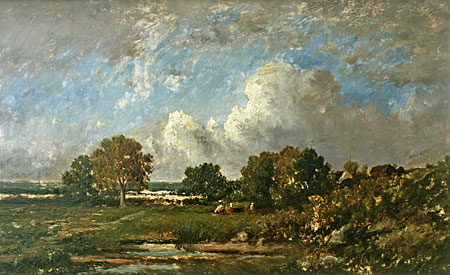 19th century Barbizon landscape

oil on board 10x16
Available
Although unsigned, this painting is clearly the work of a talented late 19th century artist working in the Barbizon style of Rousseau or Daubigny. In the center of a lush, wet landscape, are grazing cattle with a lake in the background and above it all a wonderful sky full of towering clouds.
Compare this image with similar paintings by Daubigny or Rousseau, below.

Charles-Francois Daubigny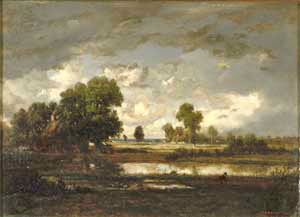 Theodore Rousseau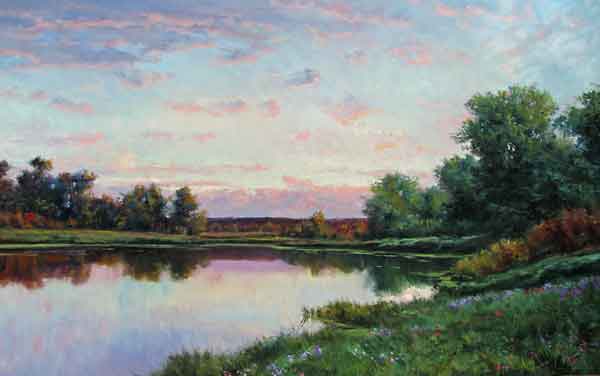 Tranquility
Oil on Linen 24 x 36
Joan Colomer

Available
Joan Colomer was born in 1965 in the Catalonia region near Olot, Spain, at San Feliu de Pallerols. In this city, some 125 years ago, the painter Joaquim Vayreda initiated the Olotina Landscape School. This assured that young Joan was raised amid a rich artistic heritage of his family and the inspirational landscape tradition immediately surrounding him. Colomer first learned to paint alongside his two brothers under the instruction of their father. Shaped by the pastoral countryside of deep forests and roving hills typical to the Olotina Landscape School a contemporary to the Barbizon school, Colomer is most known for his brilliant vistas capturing complex nuances of light. After extensive traveles, in 1990, he settled in Madrid to attend the School of Beaux Arts, and began exhibiting his works in Barcelona and Madrid, and now Colomer's paintings are shown in galleries around the world.


Initially influenced by French Barbizon painting by way of American exponents George Inness (1825-1894), William Morris Hunt (1824-1879), American painters in the Tonalist school tended to use a neutral palette carefully modulated to produce a dominant tone. Preferred subjects were scenes of dawn or dusk, rising mist and moonlight in which the enveloping atmosphere is evocative of poetic and meditative states.
(Robert) Bruce Crane, NA (1857-1937)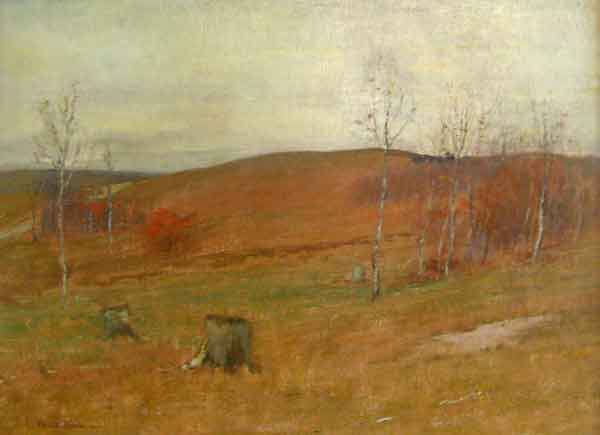 FALL CONNECTICUT LANDSCAPE
Signed lower left "Bruce Crane. N.A."
SIZE: 22" x 30"
Fine deep carved frame: 31" x 39"

(Robert) Bruce Crane, NA (1857-1937)
Robert Bruce Crane was born in New York City on October 17, 1857. The son of Solomon Bruce Crane and Leah Gillespie, he was educated in New York's public schools and was exposed to the city's galleries and museums by his father, himself an amateur painter. By the age of seventeen, Crane had moved to Elizabeth, New Jersey, where he was employed as a draftsman by an architect and builder. He soon decided to devote his career to painting, and about 1876 or 1877 sought the guidance of the landscape painter Alexander H. Wyant, with whom he subsequently shared a close friendship until Wyant's death in 1892.
Between 1878 and 1882, Crane attended the Art Students League in New York and traveled to Europe for further study. In the United States during this period, he painted in New Jersey; East Hampton, Long Island; and the Adirondacks. He wrote to his father from the Adirondacks that among the influential painters working nearby at the time were Eastman Johnson, George and James Smillie, and Samuel Coleman, and he described the dramatic terrain: "Went to the famous Rainbow Falls which several artists have tried to paint . . . Wyant and Hart among them . . . over the top comes tumbling the water which strikes every few feet throwing a spray which catches the sun giving a most charming as well as wonderful appearance."
Crane spent time in East Hampton, on the eastern end of Long Island, during the summer of 1880 or 1881 and possibly during other summers. In these early works, Crane painstakingly reproduced the pastures, hayfields, and barnyards of rural East Hampton. A critic later remarked that "Troubled or placid skies, the bright luminous atmosphere of a summer's day, or the gray tones of autumn were given in these pictures, not only with truth to nature and a certain poetic sentiment, but with a brilliant sparkling quality of effect.
Source:
Clark, Charles Teaze; "Bruce Crane, Tonalist Painter", Antiques Magazine, November, 1982.

Forest Interior (oil on board, 20" x 12")
by Maria a Becket (1840-1904)
Original Gold Leaf frame, 33" x 29"

Maria a' Becket was a well listed American painter who is cited in many American art references of her era. She was born in 1840 in Portland, Maine, Daughter of Charles Beckett, a Maine Landscape and genre painter. In 1865 she studied with Homer Dodge Martin and later with William Morris Hunt in Boston. She was influenced by the Barbizon painters at Pont Aven and painted with the famous French painter Charles Daubigny during a trip to France. At this time she changed her name to a' Becket. Maria a' Becket was a woman artist far ahead of her time; her palette is strong dense, deep with greens, burnt sienna, deep blues, and a mature loose brushstroke that one seldom acquires in a short artistic career displaying her natural talent as well as the experience gained by studying with the masters of early impressionism. Though her Barbizon influence is often stressed, this work reveals strong elements of Impressionism and is similar to her seminal work "Northern Lights". She exhibited at the Boston Art Club in 1875, the National Gallery in 1883 and 1888, and at the Pennsylvania Academy of Fine Arts from 1880 to 1884 and the New York's Women's Club to name just a few. It is only recently that we have fully recognized the great talents of our American women painters and started to give them the praise which they so richly deserve. This new realization has enhanced public demand for the exhibition of these rediscovered early masterpieces of American painting.
This work is in great condition considering it is a19th century painting. It is an exquisite oil on canvas that exudes her brilliant tonalist eye with wonderful impasto effects creating reflections and light play. It is signed front lower right , has been professionally cleaned and fully guaranteed to be an original oil done and hand signed by Maria a' Becket.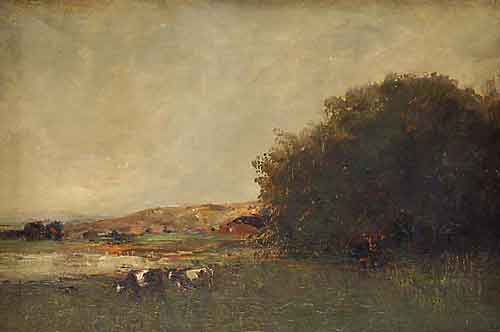 CHARLES EDWIN LEWIS GREEN (1844-1915)
RED ROCK, LYNN, MASSACHUSETTS. 1881
Signed lower right "C Green 81"
Oil on canvas, 11-3/4" x 15-1/2"
Available

A native of Lynn, Massachusetts, Charles Green became an artist committed to painting American subject matter, especially the marine and landscape scenes of his native area. He often signed his paintings C.E.L. and was part of the seven "Lynn Beach Painters" that included his close friend, Charles Woodbury.
From the 1880s through 1910, he was a regular exhibitor at the Boston Art Club and also took lessons there. He was a plein-air painter, meaning he completed his landscape and marine scenes outdoors with minimal over painting of colors.
In 1885, he moved to Boston, and he and Charles Woodbury had adjoining studios on Green Street and committed themselves to making their living exclusively with their fine art. They succeeded, and for several years, they were linked together as being non-European trained, stay-at-home artists with very similar impressionist styles and American subject matter. They prided themselves on avoiding European influence, but in the 1890s, their styles became increasingly impressionist from seeing European work in Boston exhibitions.
Green had his first one-man show in 1886 at the J Eastman Chase Gallery, one of Boston's most prestigious exhibition venues at that time. In 1906, Green moved from Boston to his hometown of Lynn where in 1909, he became one of the founders of the Lynn Art Club. He died on January 18, 1915, having been a major influence on succeeding generations of painters inspired to paint local marine scenes of the Boston area.
Source: Michael David Zellman, "300 Years of American Art"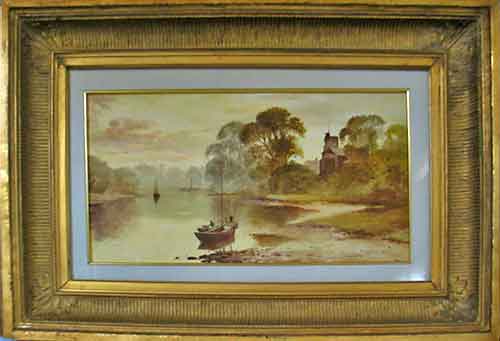 FRANKLIN BENJAMIN DEHAVEN, N.A. 1856-1934
19th Century watercolor, 9 x 18 in.
Antique Gilt Cove molding frame, 20 x28 in
Signed lower left, F. Dehaven.
SOLD
Franklin B. DeHaven was born in Bluffton, Indiana on December 26,1856. DeHaven moved to New York City in 1886 and became a student of George Henry Smillie who was concentrating upon rural New England and Atlantic shoreline scenes, especially around East Hampton, Long Island. It is not surprising to find latter-day Hudson River School influences mixed with Barbizon or Tonalist sensibilites in much of De Haven's work. Most of his works were done in the New England area.
His paintings are characterized by variety, excellent draftsmanship, and a thorough understanding of nature. Dramatic skies are almost always a major element. Evening at Monomet is DeHaven's most famous and probably his best painting. Exhibited at the Prize Fund Exhibition held in the American Art Galleries of New York City in 1889, it is a beautiful evocation of a sunset on the Maine Coast.
DeHaven was a member of the National Academy of Design, ANA 1902, NA 1920, the Salmagundi Club 1899 (president 1926-1927), the National Arts Club, and the Allied Artists of America. He exhibited at the National Academy of Design 1886-1934, the Brooklyn Art Association 1886, the Pennsylvania Academy of Fine Arts 1898-1906, 1921, the Boston Art Club 1892-1906, the Art Institute of Chicago 1889, 1904, 1914, the Salmagundi Club, 1900 (prize), 1901 (prize), 1925 (prize), the Pan-American Exposition , Buffalo, New York 1901 (prize), the Charleston Exposition 1903 (silver medal), the St. Louis Exposition 1904 (silver medal), the Society of Independent Artists (1917, the National Arts Club 1921 (prize), and the Allied Artists of America 1930 (gold medal).
A tonalist painter, he exhibited at the prestigious National Academy of Design for over 50 years. He was familiarly known as "Pop" to members of the even more prestigious Salmagundi Club. His work is represented at the National Gallery of Art, Smithsonian, Washington DC, the Brooklyn Museum of Art, New York, the Butler Institute of American Art, Youngstown, Ohio, the Colby College Museum of Art, Waterville, Maine, the Columbus Museum of Art, Columbus, Ohio, the Newark Museum, Newark, New Jersey, and the Wells County Historical Museum - DeHaven Gallery, Bluffton, Indiana.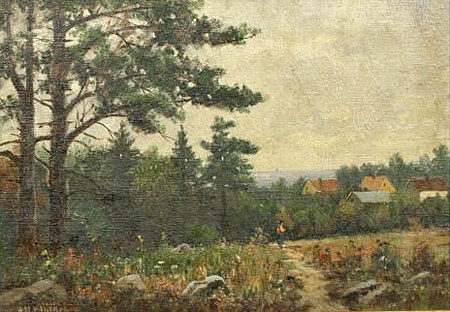 William Henry Hilliard (American, 1836-1905)
Landscape with Houses (oil on canvas, 11 3/4" x 16 1/2")
In a frame measuring 15 1/2" x 20 1/4".
Available
William Henry Hilliard, born in Auburn, New York, in 1836, was a painter of realistic, tonal landscapes related to the Hudson River School. He studied in New York City prior to painting in England and Scotland, then studying with the Barbizon landscape painter, Lambinet in Paris, France. Until 1878, he was based in New York City, but moved to Boston, Massachusetts. He was known for his New England landscapes, views of Maine, the Atlantic Coast, White Mountains and Franconia Mountains. He exhibited at the National Academy of Design, New York City, from 1876 to 1888, and the Brooklyn Art Association, in New York, as well as many other national venues, winning prizes and medals.

John Joseph Enneking (1841-1916)
Milton, Blue Hills

Signed and dated "Enneking 93" l.l.,
catalog raissonee label from Pierce Galleries
14 x20 in Antique Frame 19 x 26
Available
Known for Barbizon and Impressionist styles, Enneking was one of the most popular landscape painters of New England and one of its most successful financially. Enneking held membership at the Boston Art Club, Connecticut Academy of Fine Arts and the Salmagundi Club. His works are part of the collections of the Boston Museum of Art and the Worcester Art Museum, Farnsworth Art Museum,etc. In 1868 he went to Boston, where he studied lithography and began to paint landscapes. The catalyst for his success came while studying in France with Leon Bonnat and Charles Francois Daubigny during the 1870s on an extended stay, and when he is said to have painted with Monet. Enneking returned to Boston in 1876, and in 1878, his first solo in Boston sealed his reputation. Beginning in the early 1880s he spent summers in North Newry, ME. and also painted frequently in the White Mountains.
Charles P. Gruppe, American. 1860-1940
Cattle Grazing
Oil on canvas, 24 x 36 in. in excellent period frame

Available
Charles Gruppe was born in Canada, and moved to New York State was he was ten. Primarily a tonalist landscape and marine painter, Charles Gruppe was largely self-taught although he spent time studying in Europe, eventually settling in Holland for a time where he developed his skill at subtle coloration and careful draftsmanship. His landscapes, like the one above, reflect the influence of the Barbizon school and the earlier Dutch landscape tradition of the Hague school. Charles Gruppe returned to America becoming a painter and well as a dealer. His son, Emile, who became a famous painter himself, was born in 1896. In 1925, after seeing a number of Rockport and Gloucester harborscenes at an exhibition in New York, father and son traveled to the Cape Ann area of Massachusetts. They fell in love with the location, set up studios and painted there for the rest of their lives. The Gruppe family studio remains there to this day.
Charles Gruppe exhibited at the National Academy of Design (NAD), the Pennsylvania Academy of the Fine Arts (PAFA), the Boston Art Club, and also in Paris where he won a gold medal at the Rouen Exhibition. His paintings are included in the collections of the National Gallery, the Brooklyn Museum of Art, the National Arts Club, the National Gallery in Canada, the Queen of Holland Collection, and in the Art Museum in Rouen, France.

Shepherd's Lane (Oil on canvas, 12" x 16")

Charles Appel (1857-1928)

Available
Born in Brooklyn, New York, Charles Appel is known for romantic landscapes in Barbizon and Impressionistic styles. He was a pupil of Francis Luis Mora and William Merritt Chase at the New York School of Art and of Frank Vincent DuMond at The Art Students League. As is evident in the painting here, the major influence on his career, however, was George Inness. Most of his life was spent in East Orange, New Jersey from where he was active in New York art circles and elected a member of the Salmagundi Club in 1906.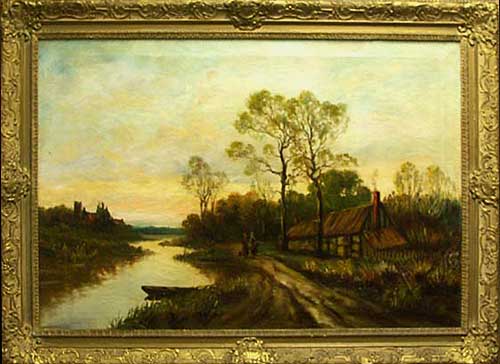 "Riverside Farm" by Howard Leeds, American, c.1918

Available
Howard Leeds was an early 20th century American artist who was influenced by the Barbizon school. This painting (ca. 1918) is a large impressionist oil of a river meandering through the French countryside, similar in subject and style to the classic works of Daubigny who often painted river scenes like this in evening light from a floating studio.

Contemporary American Works in the Barbizon Manner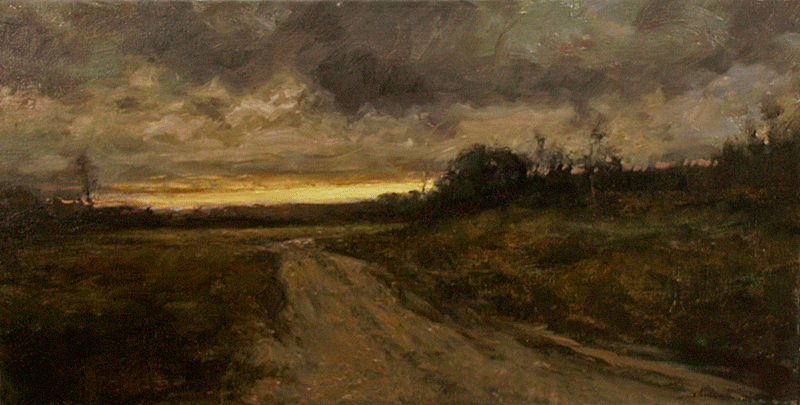 Approaching Storm
Oil on linen, 11" x 21"

Dennis Sheehan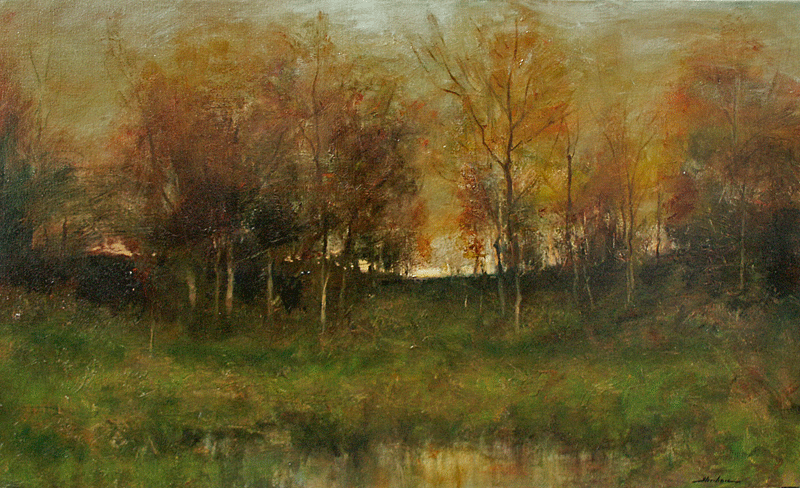 Autumn Glory
Oil on linen, 20" x 31"

Dennis Sheehan

Dennis Sheehan, born in Boston in 1950, is a member of the Guild of Boston Artists, and currently lives and works in the New Hampshire countryside. His work is in major public and private collections, including the White House. Sheehan paints in the Barbizon mode with remarkable authority and faithful adherence to his 19th century precursors. In the tradition of Inness and American Tonalist painters, Sheehan creates landscapes of mood, affected by nature's changing seasons. Mystery, dream, memory, and imagination are often espoused in their haunting, broadly painted canvases of dusk and moonlight.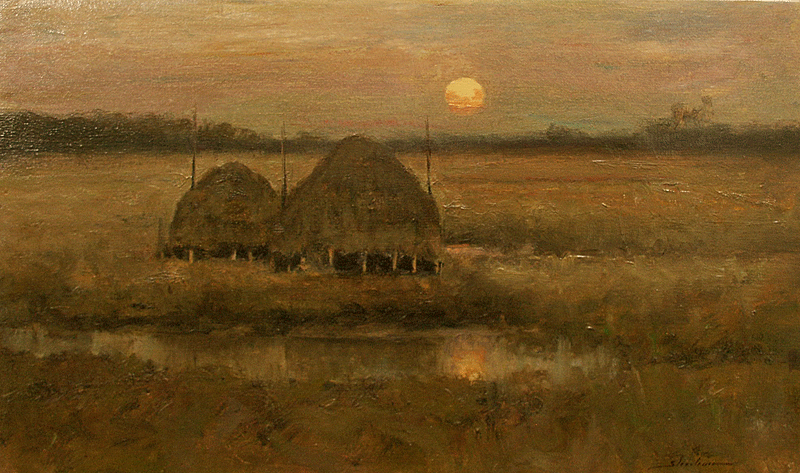 Hunter's Moon
(oil on canvas, 24" x 36")

Dennis Sheehan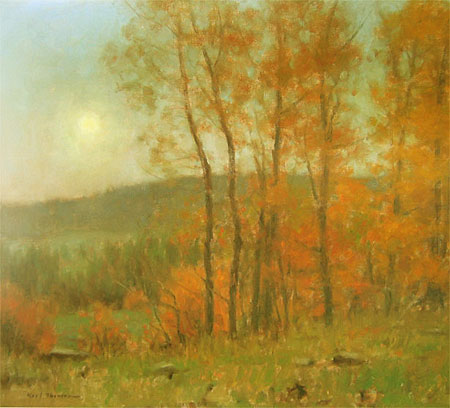 October Moon
(18x18 oil on canvas)

Karl Thomas

Widely acclaimed for his plein air compositions of the Grand Canyon of Arizona, The Grand Tetons of Wyoming and Wasatch Mountains near his Utah home, Karl Thomas acknowledges the influences of Inness, Sargent, Bierstadt and Moran on what he describes as his own style of "realistic impressionism." Early inspiration at his father's easel led to art studies at Brigham Young University, where he graduated in 1982, and the Los Angeles Art Center. Karl Thomas is represented by major galleries from California to New York. He was featured in the January/February 1990 issue of Art of the West and was selected in the top 100 artists in the Arts for the parks Exhibition in 1995.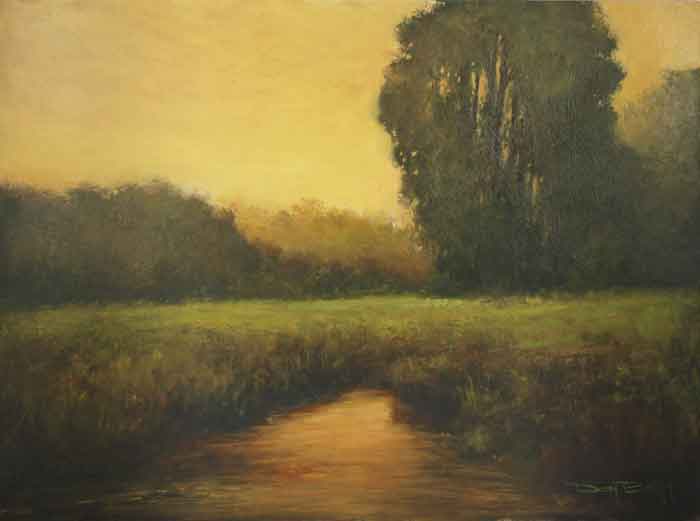 Quiet Meadow
(oil on canvas, 12"x16")

Don Bishop

Don Bishop is rapidly emerging as one of the most accomplished tonalist painters in the Pacific Northwest where he divides his time between plein air and studio work. Most of his pieces are painted alla prima using different color combinations according to the season and light. His roots are firmly planted in the early Californian impressionism because of the outstanding patterns of color and atmosphere associated with this school. Don has won several awards at recent shows including a blue ribbon at the 2003 Lake Oswego Art Festival, and has patrons throughout the US include Senator John Edwards and his wife, Elizabeth, of North Carolina.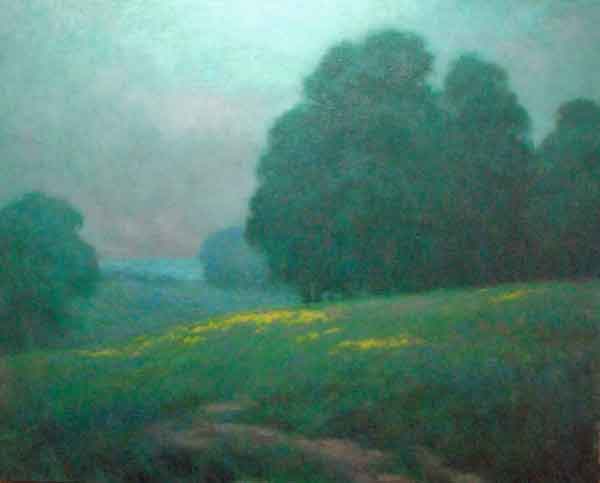 Seaside Meadow
(oil on canvas, 16" x 20")
William McLane, Jr.

The works of William McLane, Jr. are highly collectible and hang in galleries and homes throughout the United States and abroad. His artwork is particularly well known on the East Coast – especially on the islands of Nantucket and Martha's Vineyard and the coast of Maine. He is a member of the Artist's Association of Nantucket. He is a versatile painter whose work varies from abstract to impressionism always with an effective vibrant use of color and excellent composition.
For prices of these and other works in this exhibition please see the "paintings and artists" section of the site. Better still, stop by and visit the gallery during next season.
See the calendar for future exhibitions.